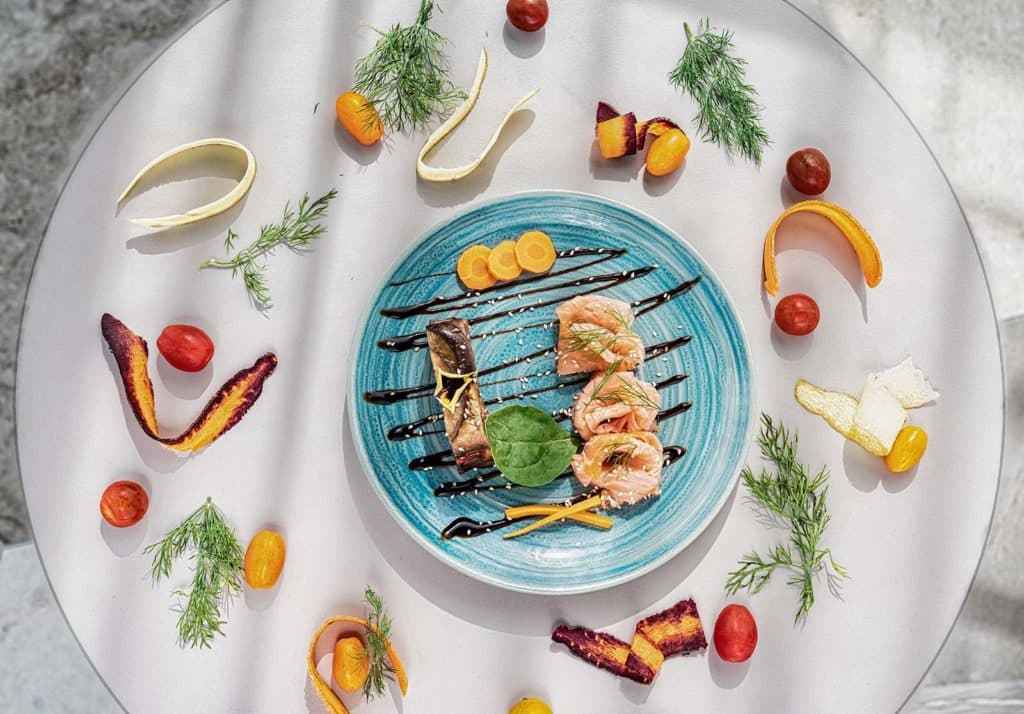 Healthy, organic and environmentally responsible meals
Aïga resort offers a new approach to cuisine that is gourmet yet tailored to your dietary needs and respectful of your daily health.
Created by the alliance of our chef and dietary nutritionist, all the recipes are tasty, healthy and balanced, and have been designed with an eco-responsible approach from natural ingredients that are usually organic and local. 
Exclusive to Aïga resort, our menu will surprise all palates with the exceptional taste and nutritional quality of its dishes and perfectly meets the expectations of our spa-goers in terms of healthy eating.
Based on the principles of micronutrition, our Menu is one of the pillars of the new Aïga resort medical concept – thermal treatments for the microbiota. This means that all our recipes are checked to ensure that they are respectful of the microbiota and adapted to the constraints of people suffering from chronic inflammatory digestive diseases and rheumatic disorders.
An elegant Belle Époque brasserie atmosphere
Entirely glazed, with an unobstructed view of the resort's plaza, the Aïga restaurant offers a calm, intimate and cosy atmosphere, inspired by the brasseries of the 1930s. The classic and sleek decor plays with contrasts, through the use of high-quality materials and inspiration drawn from the volcanoes. 
A large terrace will allow you to take full advantage of sunny days for summer meals in the open air.
Meals adapted to all your tastes
Breakfast
Price: €15
Compose your own personalised breakfast from a selection of sweet and savoury ingredients, specially selected for their nutritional qualities and taste.
Lunch and dinner
Discover all the pleasure of our cuisine and its healthy, tasty and personalised recipes based on seasonal, fresh, local and mostly organic products.
À la carte meals:
Menu €24* – 2 courses

Menu €29*– 3 courses
* We advise you to book in advance.  Menus available for half board or full board.
Currently unavailable
Takeaway
Would you like to taste our chef's recipes at home?
Order from the restaurant.
Service available soon.